Sindhi High School
News & Circulars
Ganesha Chathurthi Celebrations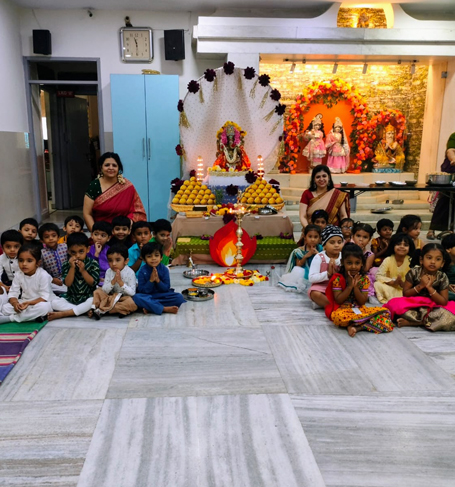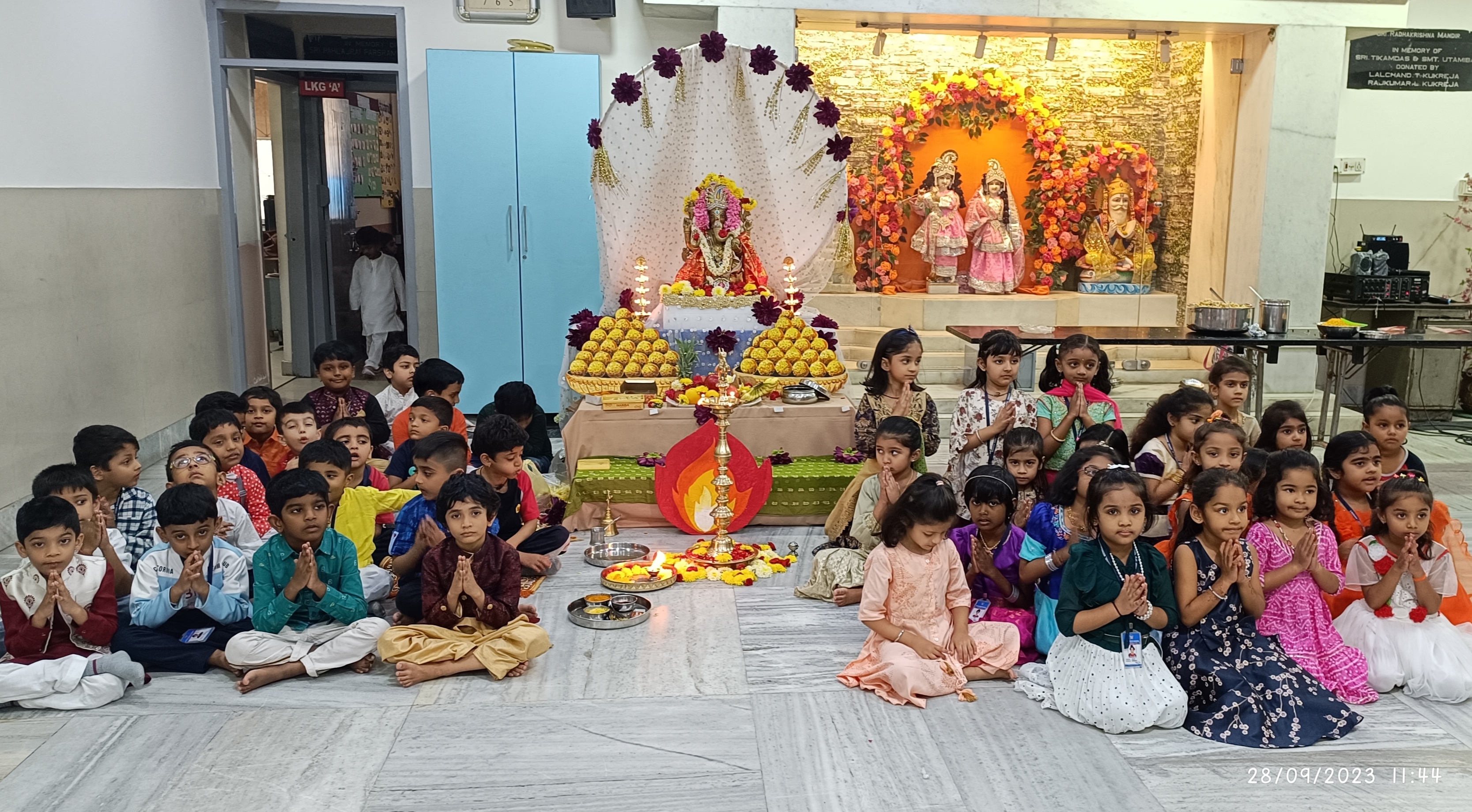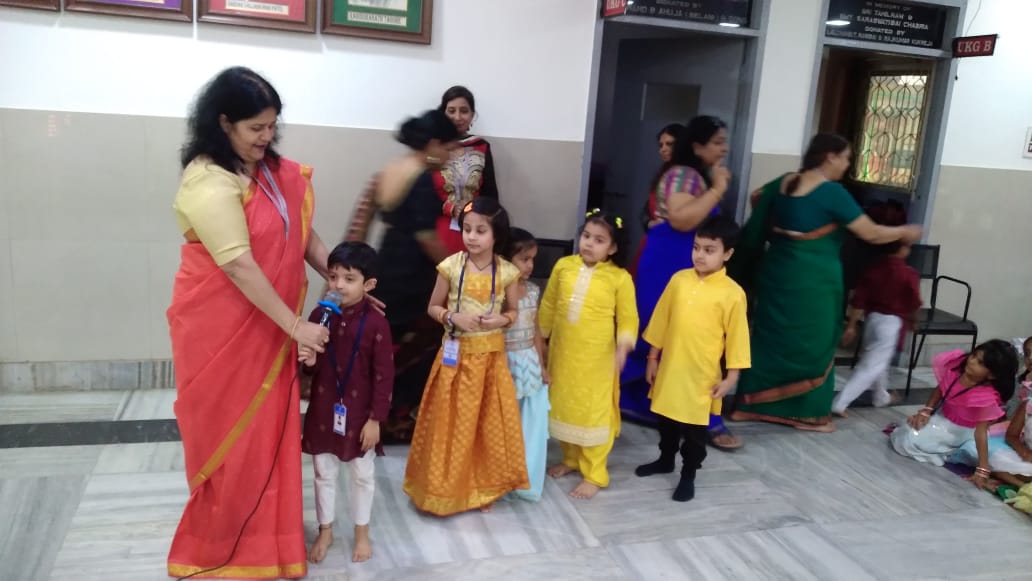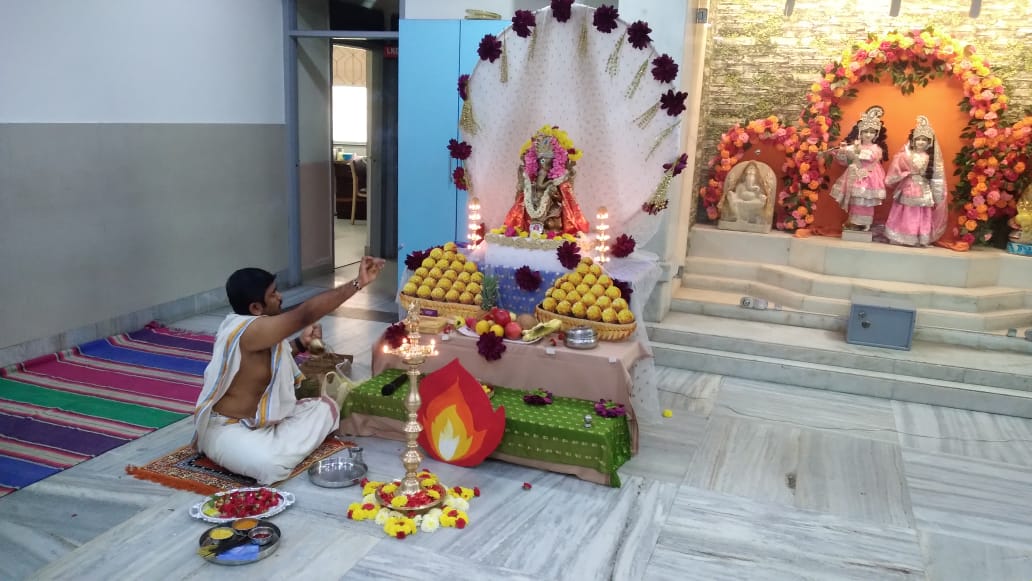 View Gallery
---
Pre-Primary Annual Day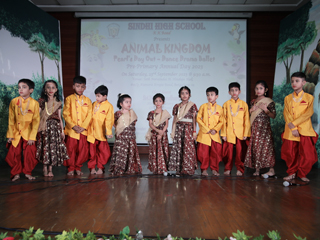 Animal Kingdom - Pearl's day out… Pre Primary Annual Day celebration on Saturday, 23rd September 2023 was a coming together of animals of different worlds, aquatic, terrestrial and aerial ,to make it a memorable experience for Pearl, the Mermaid. The chief guest for the day was Sri.Nitin Kandhari, Hon. Jt Secretary, Sindhi High School, KK Road. The event was graced by the school management and his team of office bearers, Director- Smt. Maithreyi Satyadev, Vice-Principals, Staff and Parents. Our talented students beautifully conveyed the message- Home is where the HEART is!
View Gallery
---
Staff Sindhi Sports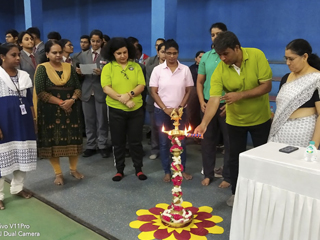 "Only he who can see the invisible can do the impossible" - Frank L Gaines Sindhi High School, Hebbal celebrated their 20th year of inception. To Celebrate and cherish the moments the Staff Sports Meet was held on 9th September 2023. Where in Staff members from Sindhi Group of Educational Institutions (Sindhi High School K K Road, Hebbal, Sindhi Seva School, Sindhi PU College, Thanisandra, and Sindhi Degree college & College of Management) participated in various games. 23 of our Staff from Sindhi High School, K K Road participated and won in various games like Throw ball, Badminton, Carrom Board, Tug of war, Recreational games and Tennicot.
View Gallery
---
Teachers Day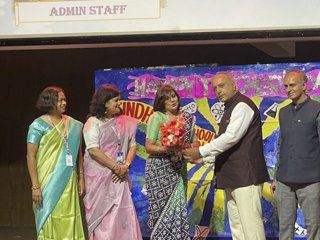 "Teaching is the greatest act of optimism" On 5th of September teachers day was celebrated at our school .Hosted by the school management, they extended their warmest greetings and deepest gratitude to the teachers who have demonstrated unparalleled dedication and passion in their roles. As a token of their heartfelt appreciation, honorable management felicitated Ms Pratima Pai Vice principal, Ms Alamelu Science Coordinator,Ms Suchitra Math Mentor for High School,Ms Asha F Preprimary Mentor ,Ms Santosh Sharma Admin Team who have completed 15 years of service., symbolising recognition of school staffs tireless dedication in shaping the minds of students. A Lip-smacking lunch was organised by the school management. As the day came to an end, the spirit of gratitude will be carried forward, not just today but every day.
View Gallery
---
Scouts and Guides Outing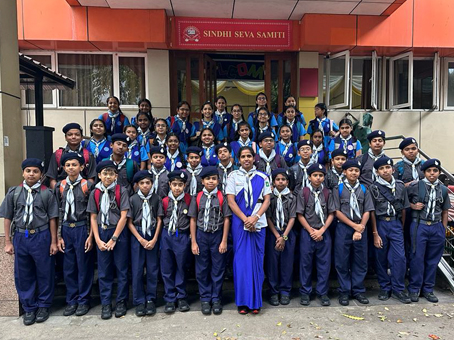 On Friday, September 8th, 2023, the Scouts and Guides (class 7 & 8) embarked on a one-day outing with a dual initiative: to raise awareness about the conservation of nature and to promote understanding and empathy towards specially-abled individuals. The chosen venue for this enlightening experience was the N.S Hema Horticulture Training Center. This inclusive study program aimed to instill a sense of responsibility towards nature by immersing the students in its beauty. Through guided nature walks, interactive workshops, and engaging discussions, the young scouts and guides learned about the importance of preserving our environment for future generations. Additionally, the program encouraged students to understand and appreciate the challenges faced by specially-abled people. Through various activities and interactions with specially-abled individuals, the scouts and guides gained valuable insights into the strength and resilience of these members of our society. To ensure a seamless experience, food arrangements were made, allowing everyone to bond over meals and share their newfound knowledge and perspectives. This one-day outing was not just an excursion but a transformative experience, fostering a spirit of conservation and inclusivity among the scouts and guides, preparing them to make a positive impact on society.
View Gallery
---
Krishna Janmashtami Celebrations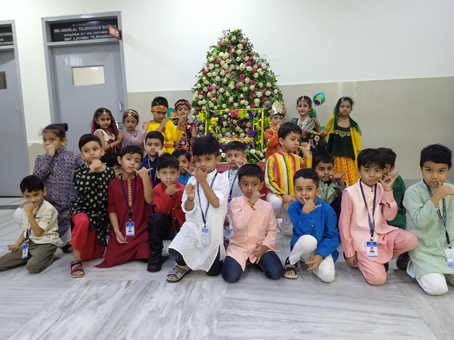 The students of pre primary celebrated Krishna Janmashtami on Friday, 8/9/2023 with great pomp and splendor. They experienced the Raas leela and sang bhajans. Children heard the story about the birth of Lord Krishna in awe and wonder. They were thrilled to bits to see the Laddoo Gopal on Jhula/Palna and waited patiently for their turn to do the ritual.
View Gallery
---
Blue Splash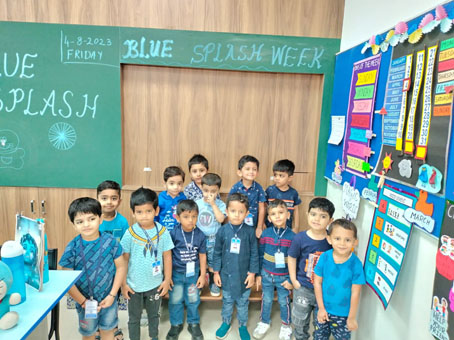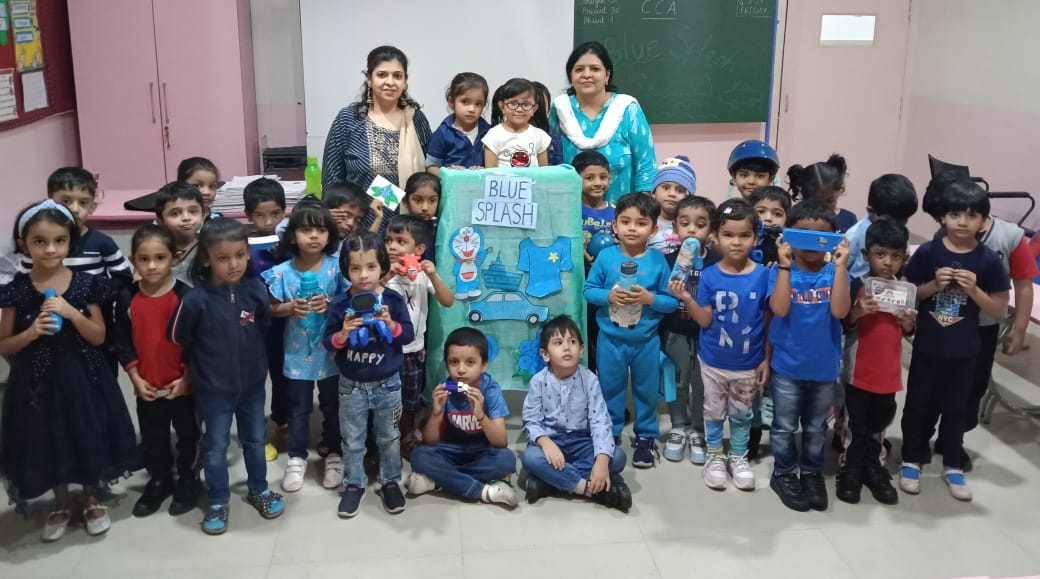 View Gallery
---
Competitions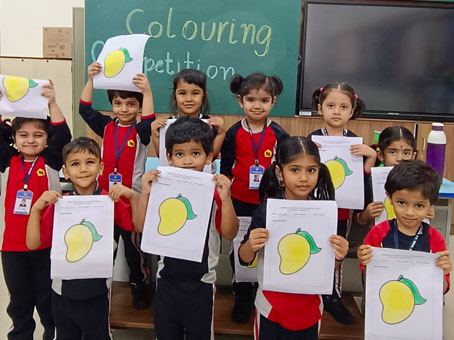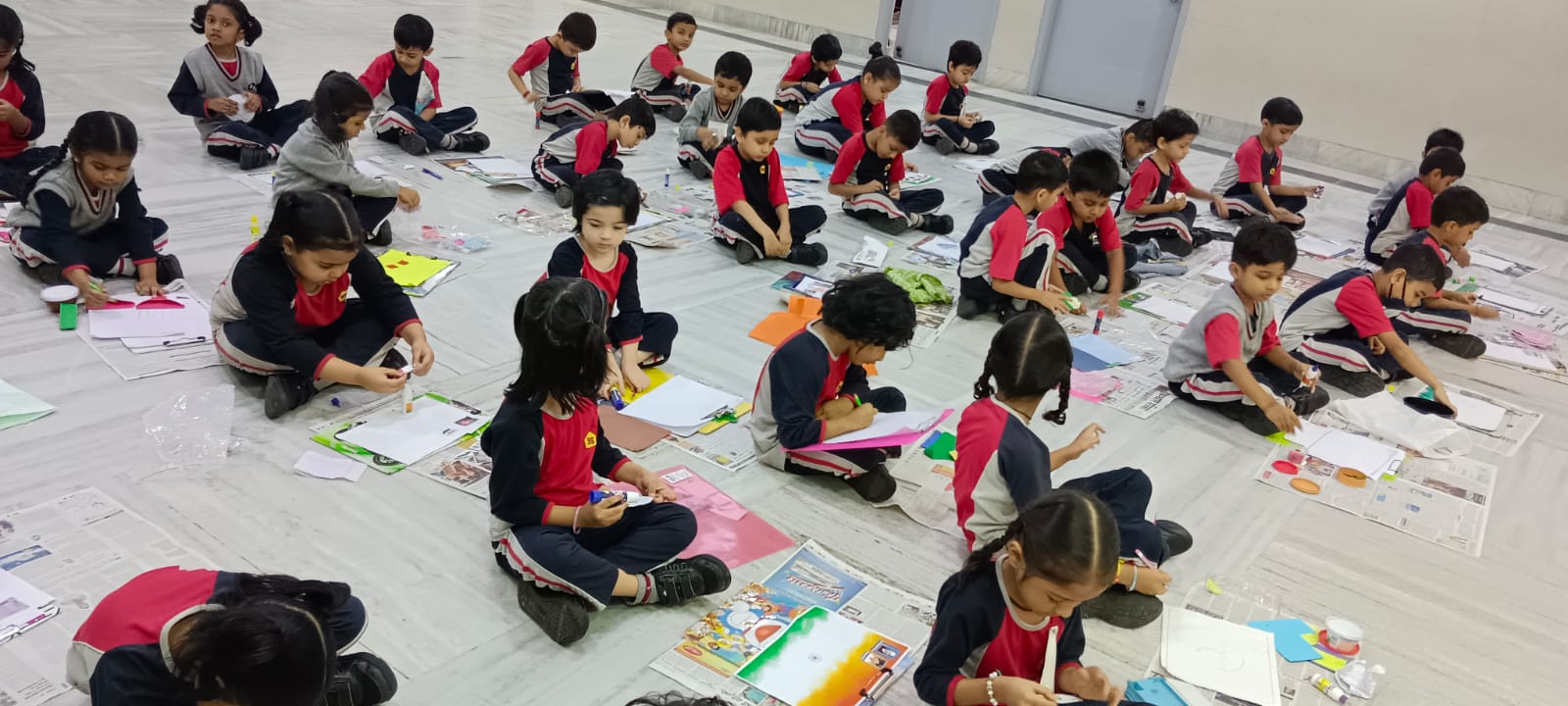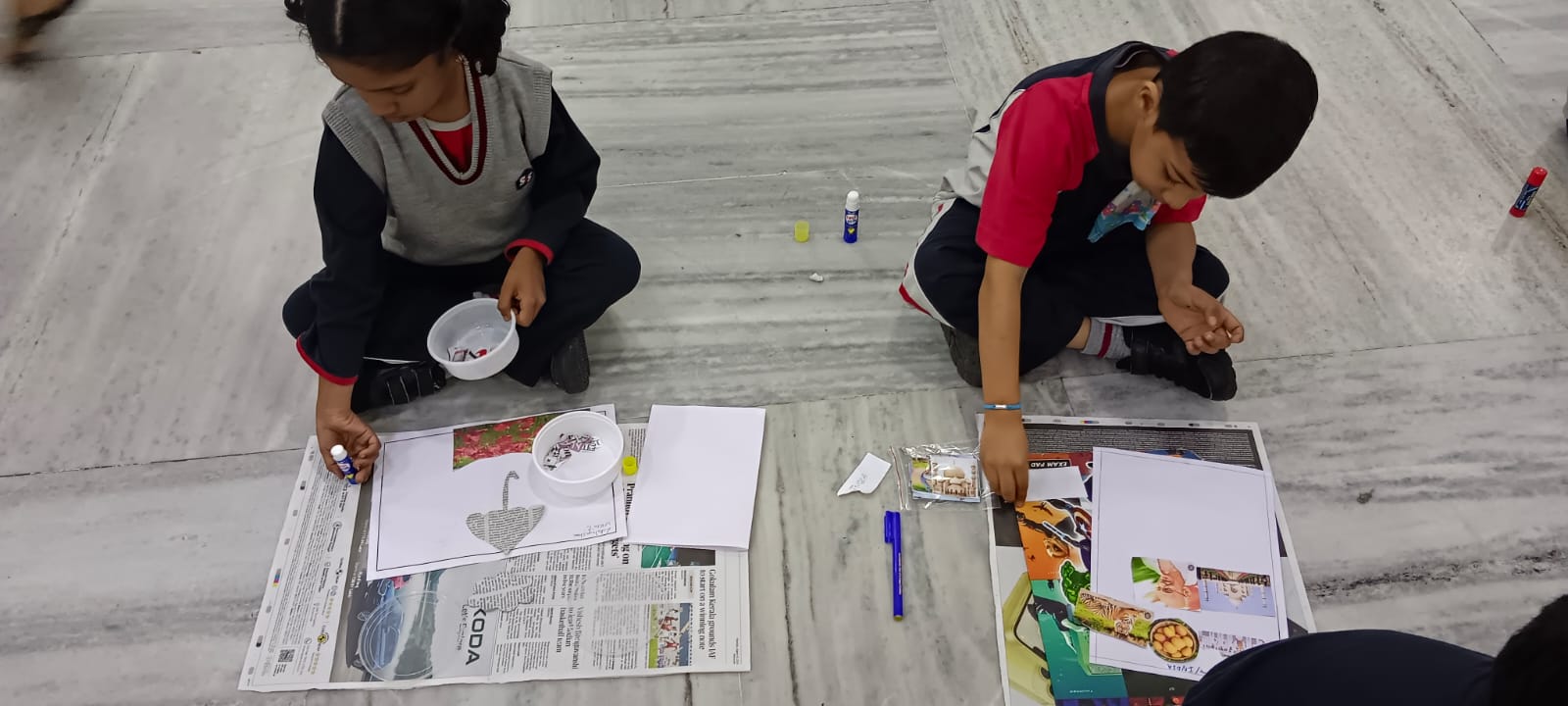 View Gallery
---
I love India - 1 min talk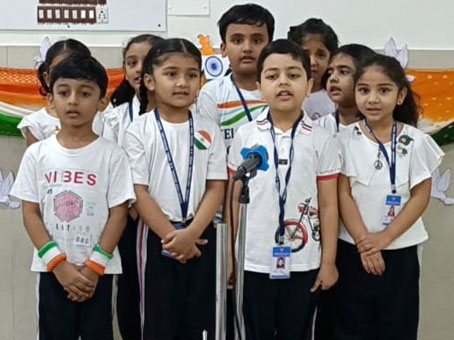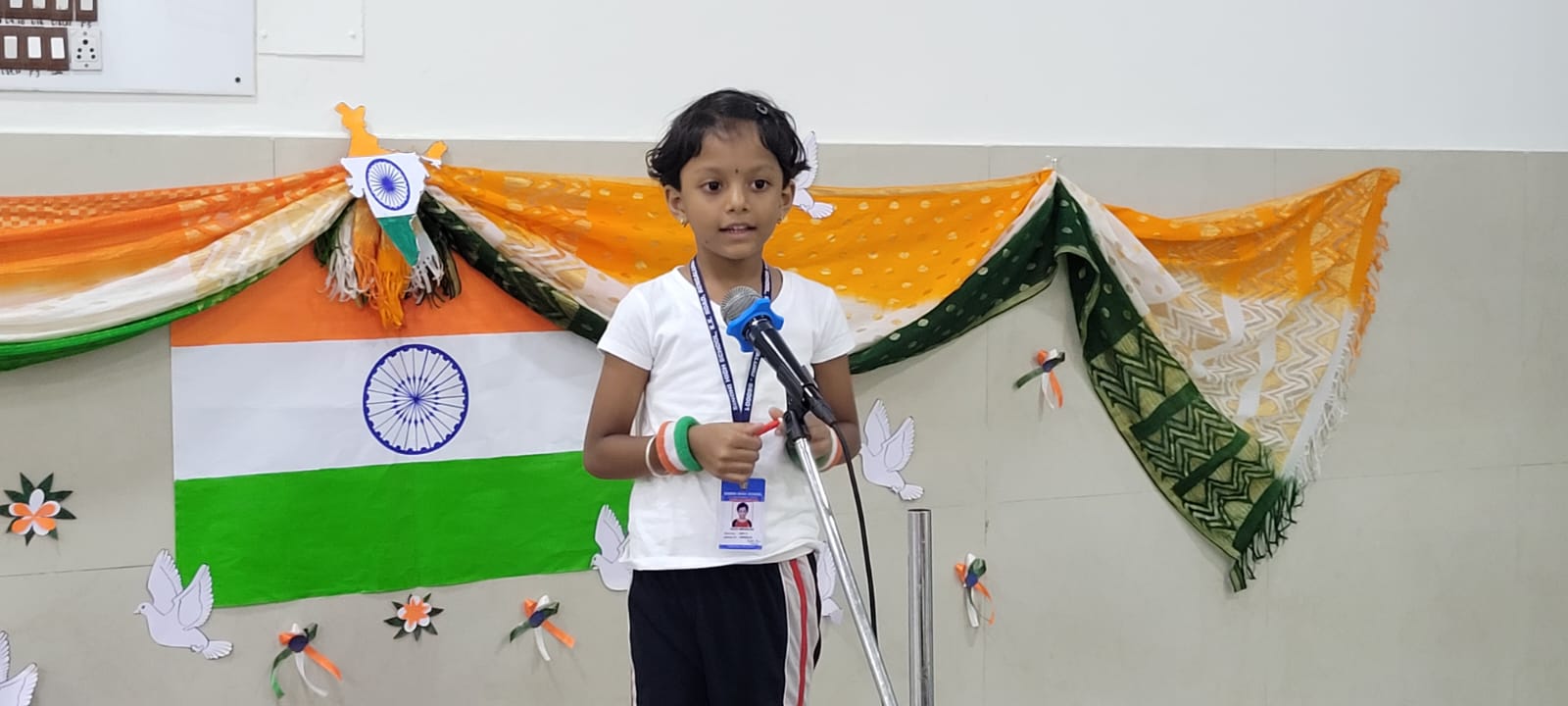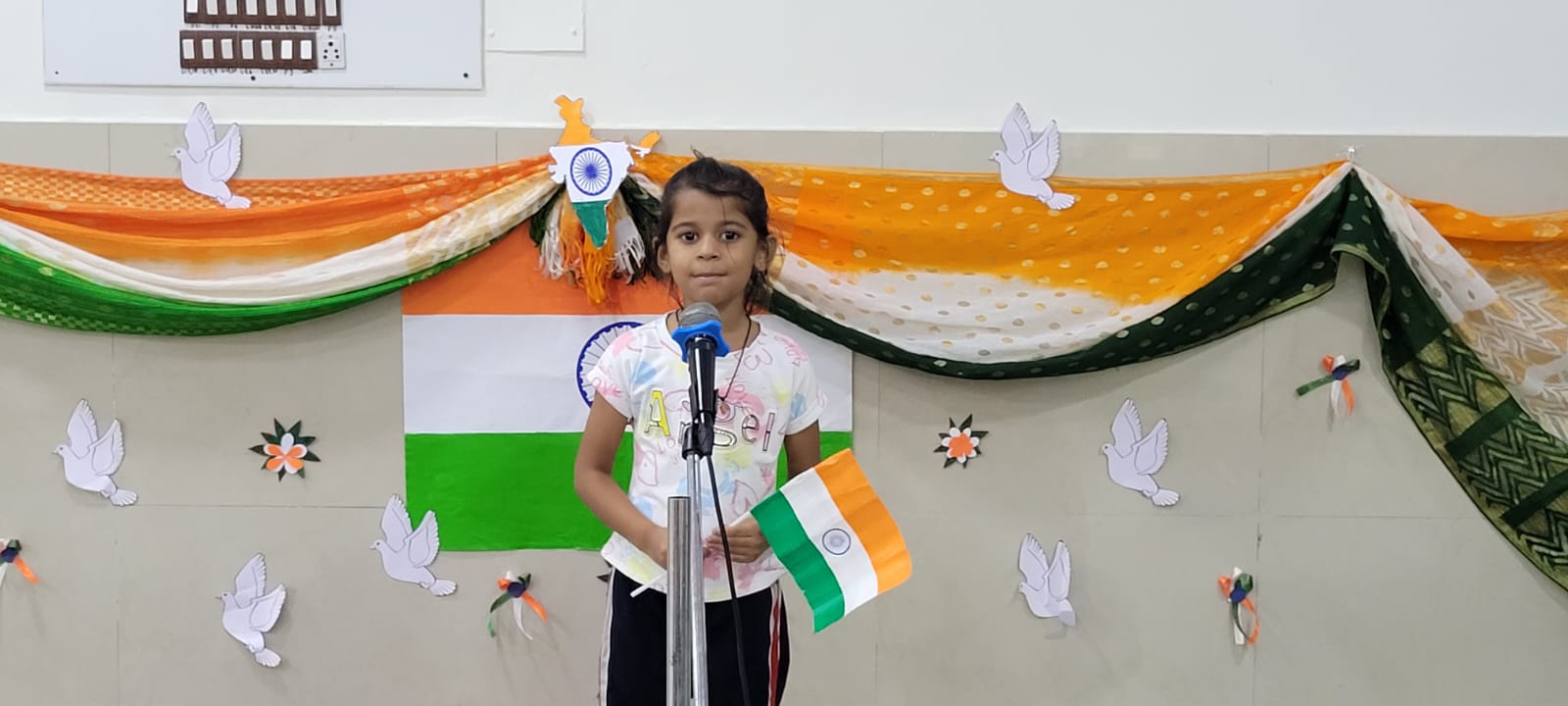 View Gallery
---
Senior Annual Day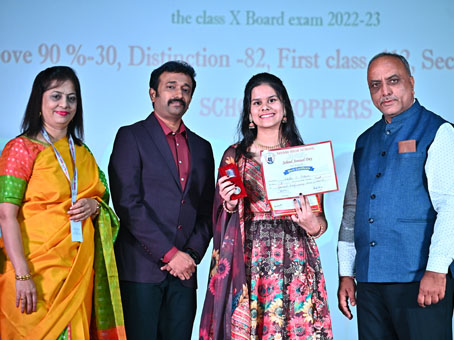 Together through thick and thin. 👫 #Rishtey Rishtey: Senior Annual Day celebration on Saturday 2 September 2023 was a memorable and heartwarming event that not only showcased the students' talent but also emphasized the importance of relationships in our lives through the theme based concept RISHTEY. Dr. Suchetan Rangaswamy, our esteemed Chief Guest, applauded the students' performances for celebrating the invaluable connections that enrich our lives. The event was graced by school management headed by President Sri Sanjeev Atmaram, Chairman Sri Rajan Doulatram and his team of office bearers, Director- Smt. Maithreyi Satyadev, Principal Smt. Devika Kiran, Vice-Principals, Staff and Parents. It was an evening filled with joy, love, and camaraderie, leaving everyone in attendance with a deep appreciation for the bonds that truly matter
View Gallery
---
The Sindhian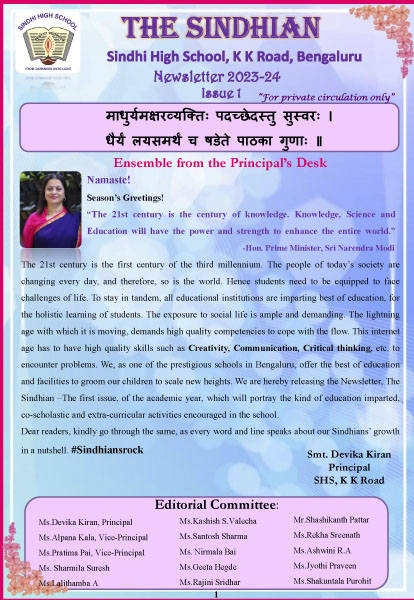 ---
Junior Annual Day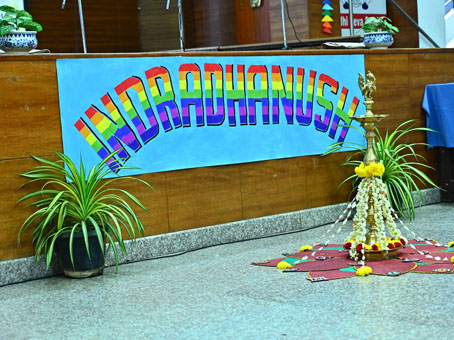 ONE PRISM, MANY COLOUR Sindhi High School's Junior Annual Day celebration on Tuesday, 29th, August, 2023 was a rich cultural tapestry under the theme 'Indradhanush' with colourful and captivating dance forms from different states. Our talented students beautifully conveyed the message of unity in diversity. Dr. Veena Murthy Vijay, our esteemed Chief Guest, commended the students' performances for celebrating the essence of our nation. The event was graced by the presence of our dedicated leaders, our Chairman Sri Rajan Doulatram and his team of office bearers, the Director- Smt. Maithreyi Satyadev, the Principal Smt. Devika Kiran, Vice-Principals, Staff and Parents underscoring our commitment to nurturing both culture and education. This Annual Day celebrated not only talent but also the harmony that binds our diverse nation together.
View Gallery
---
Inter school Elocution Competition Sindhiyat jo Jazbo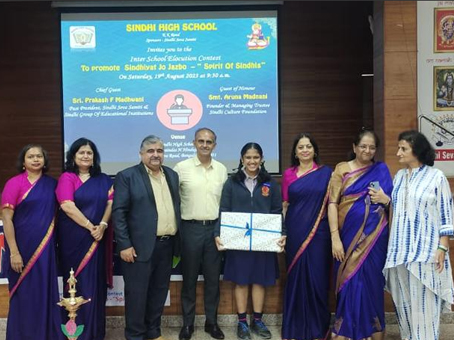 The interschool elocution competition, "Sindhiyat Jo Jazbo," held by Sindhi High School K K Road, on Saturday, August 19th, showcased impressive speaking skills and extensive research by participating students. Distinguished judges, including Sri Prakash F Madhwani, Smt Nikita Madhwani, and Smt Maithreyi Satyadev, evaluated the performances. The winners are Paramika A Prabhu - BBUL Jain Vidyalaya. Ardra Kishore - Navkis Educational Centre and Tisya Chikodi - NPS, They were rewarded with valuable prizes, including a laptop, an Android phone, and Bluetooth headphones , making it a memorable event for all involved.
View Gallery
---
77th Independence Day Celebration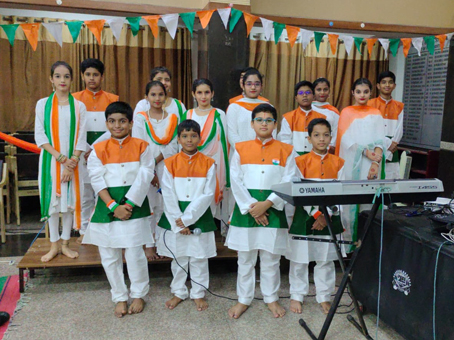 "The tribute will always be less for our freedom fighters but the salute to all will never be less. Saluting the entire nation, Happy Independence day!" The 77th Independence Day celebration at our school was a vibrant and patriotic event that filled the air with a sense of pride and unity. The school premises was adorned with tricolour decorations. The event commenced with the hoisting of the Indian flag by the Chief Guest Sri Rajan Doulatram , Chairman Sindhi High School Kumara Krupa Road, followed by the singing of the National Anthem. Various cultural performances were organized, including dance, music, and skits that portrayed India's journey to freedom and its rich cultural heritage. A highlight of the event was the speech by our honourable chief guest , paying his heartfelt tribute to the freedom fighters who have laid down their lives for us and the students who emphasized the importance of freedom. The celebration also included felicitation of students who have made the school proud at National and International levels. The celebration concluded with distribution of sweets. JAIHIND, JAIBHARATH!
View Gallery
---
"Let's Act, Before They Vanish Forever."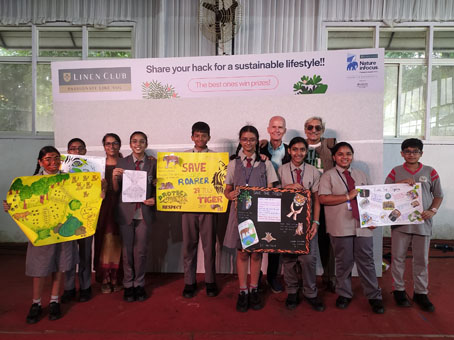 The Global Tiger Day, event was scheduled on 28th July 2023 at Jayamahal Palace Hotel. It was an excellent opportunity for students to interact with peers from other schools and exchange ideas, with regard to Tiger conservation. The students had an opportunity to interact with Bittu Sahgal, Founder- Kids for Tigers & Sanctuary Asia, and Vance Martin-President of The WILD Foundation on this occasion.
View Gallery
---
Moment Of Calm - An initiative by Dada Vaswani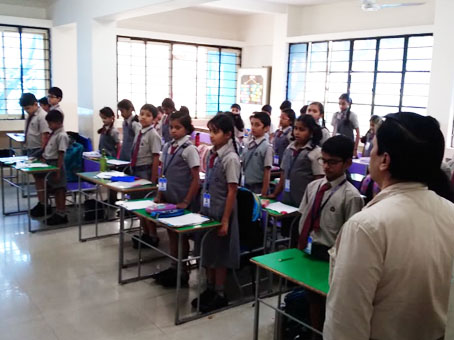 At Sindhi High School, K K Road, a profound moment of calm enveloped the campus on Wednesday, 2nd August,2023 as the Principal's voice resonated over the public announcement system. She emphasized the significance of this moment, encouraging students to embrace mindfulness and introspection. This cherished tradition reminded all that amidst the bustling world, finding moments of calm could nurture the spirit and enrich the educational journey.
View Gallery
---
Story Narration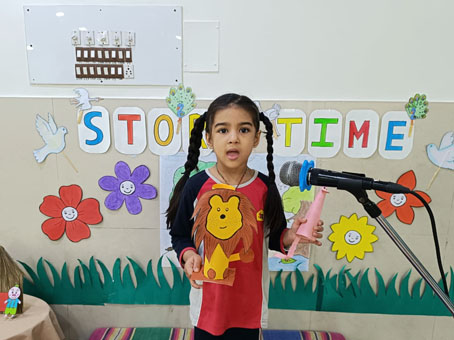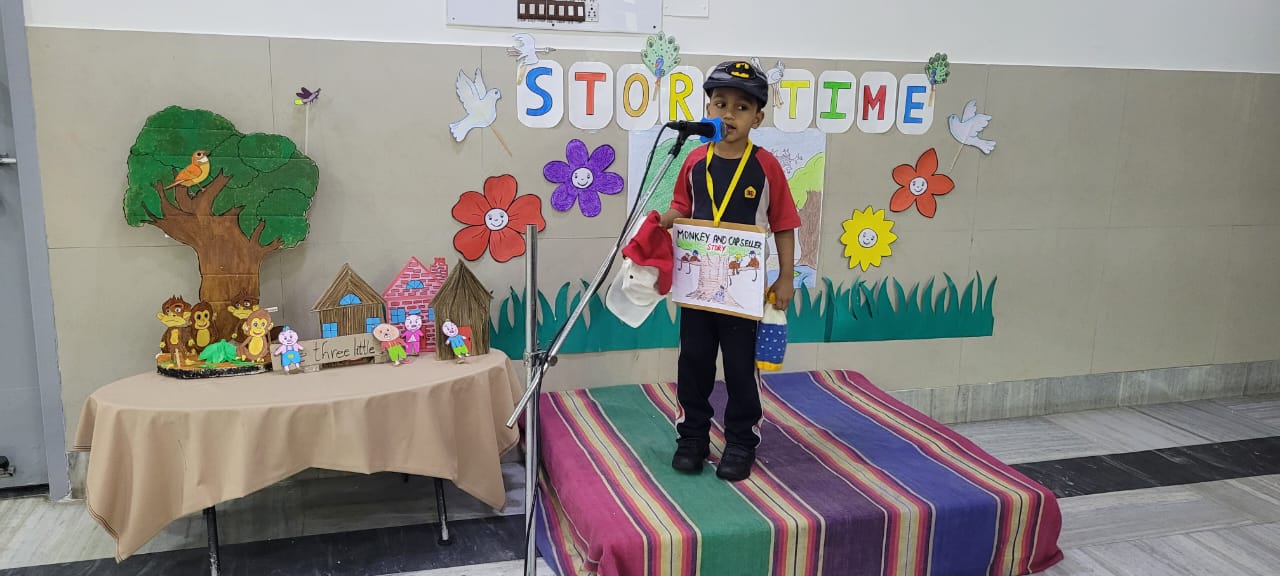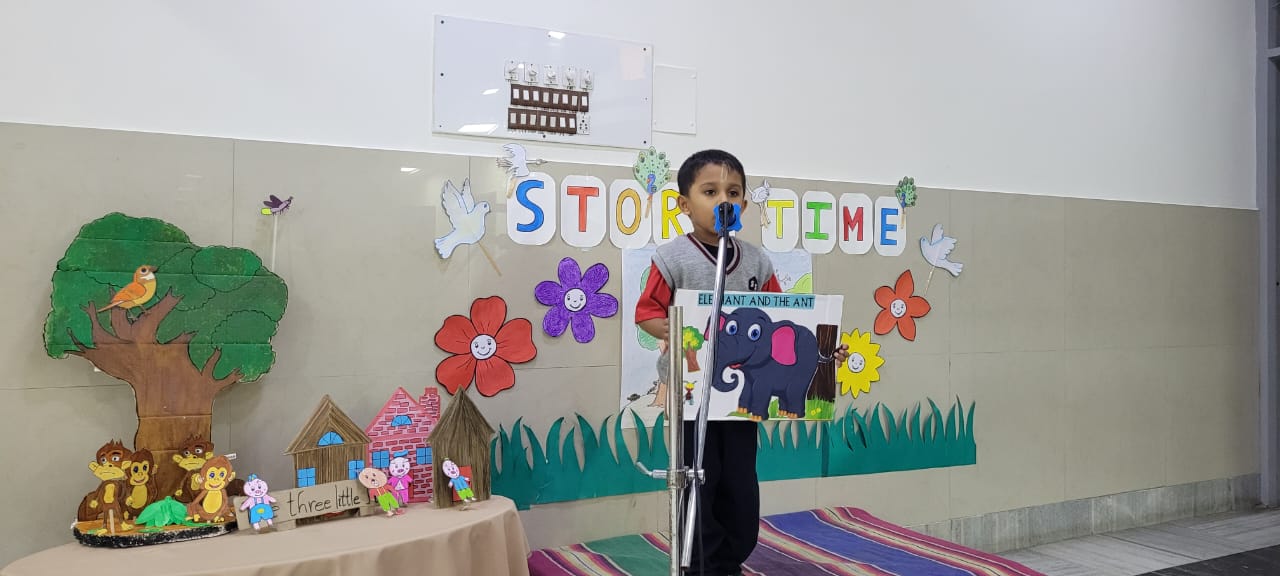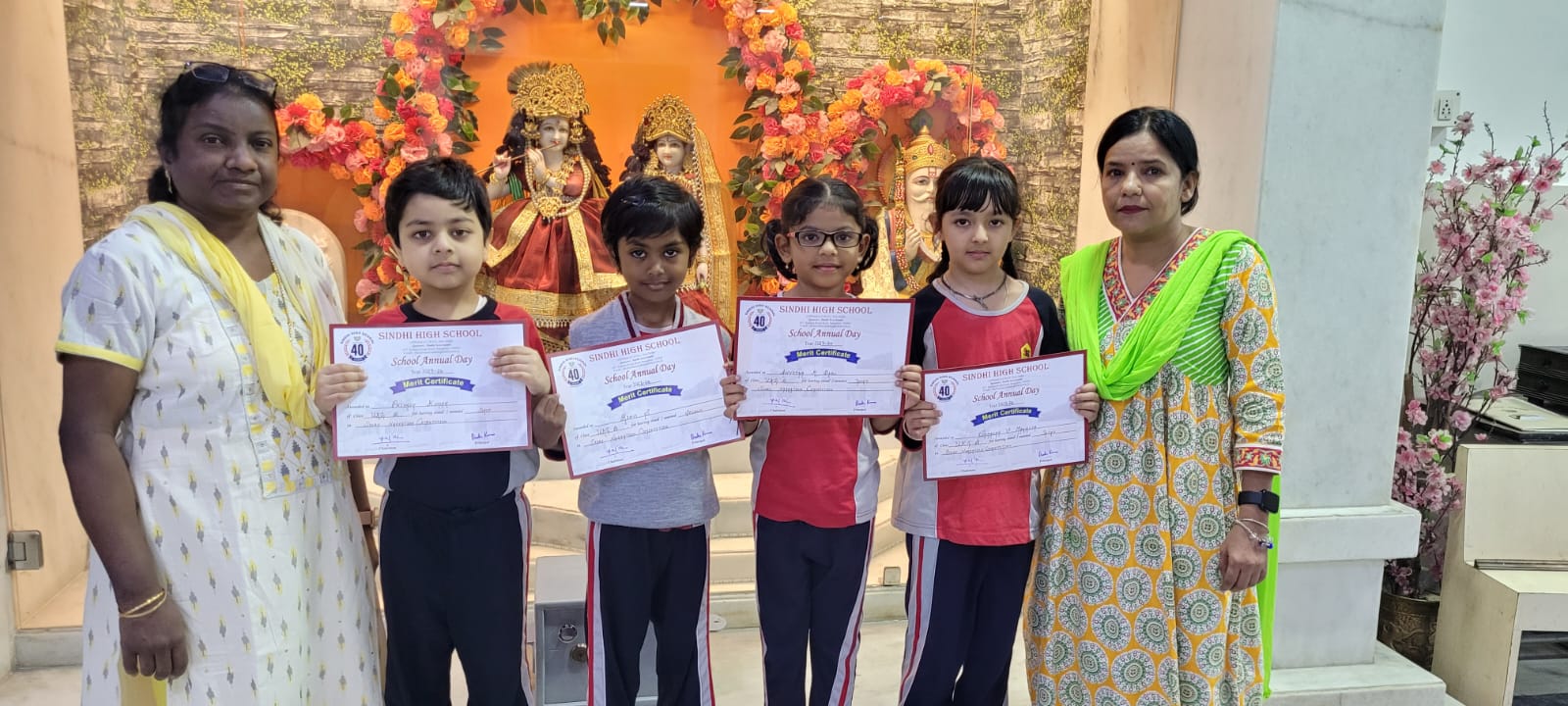 View Gallery
---
Worshop by Sahodaya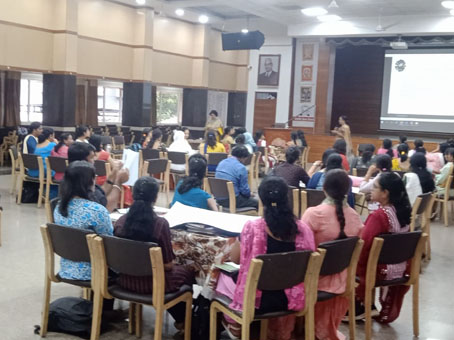 Our school played host to Social Science teachers for a workshop conducted by Sahodaya Complex, on Saturday, 22nd July. The resource persons Ms.Sarada Chandrasekhar and Ms. Mini Johny conducted an informative session for the participants. The teachers gained insight into innovative teaching methodologies.
View Gallery
---
Thrilling Table Tennis Tournament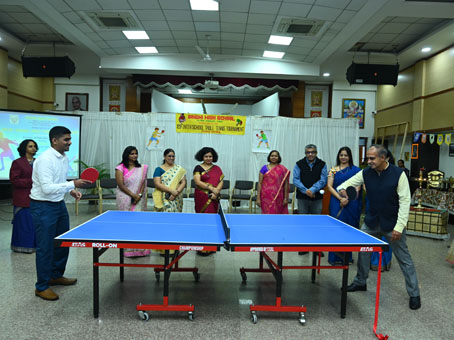 Table Tennis Tournament Unites Enthusiastic Players in a Display of Skill and Sportsmanship The rhythmic sound of balls bouncing, the fast-paced exchanges, and the fervor of competition filled the air as the 29th Inter-School Table Tennis Tournament which took place at SINDHI HIGH SCHOOL, KUMARA KRUPA ROAD on 28th and 29th of July, attracted 16 schools with diverse range of participants. The tournament was conducted for under-16 players for both boys and girls, who were eager to showcase their talent. Notable Table Tennis players Mr. CHARAN V.P. an alumnus and National TT Player and Ms Anarghya Manjunath, International TT Player, graced the occasion with inspiring words. The event reached its pinnacle with the grand finale, where the champions from each division faced off for the coveted title of the overall champion. Sri Kumaran's, CBSE emerged winners in the Boys' category and Sri Kumaran's, State won the championship in the Girls' category President Sri Sanjeev Atmaram, Sri Rajan Doulatram ,Chairman Sindhi High School Kumara Krupa Road and Principal Smt Devika Kiran expressed their gratitude to all participants, volunteers, and the sports community for making the tournament a resounding success.
View Gallery
---
Kargil Divas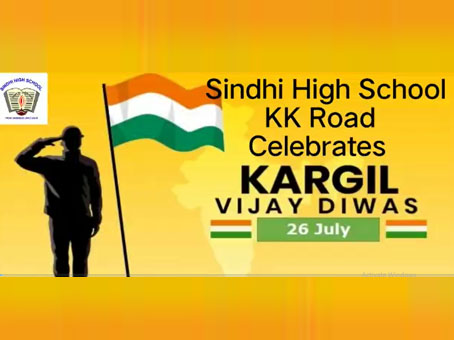 Kargil Vijay Divas - Inspiring generations for the years to come. 'Kargil Vijay Diwas' was observed in school, to pay tribute to Kargil Martyrs. The war heroes who are an epitome of courage and sacrifice. The power point presentation, speech and video shared by the students made the event informative and enlightening. It reiterated the significance of Kargil Vijay Diwas. The entire staff along with the students paid homage to the war heroes by observing 2 minutes of silence.
View Gallery
---
Story Narration Competition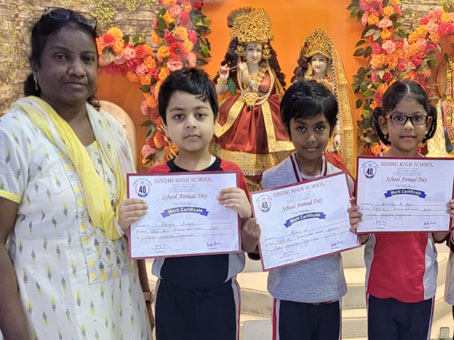 Story narration is a fun way to engage children in various skills like recollecting facts, sequential order, analyzing good and bad situations. It sparks imagination and creativity in students. It brings out various emotions like happiness, sorrow, excitement and pain. It develops their language and oratory skills. Students of UKG and LKG participated in the Story narration competition with great zeal and enthusiasm.
View Gallery
---
Good touch, Bad touch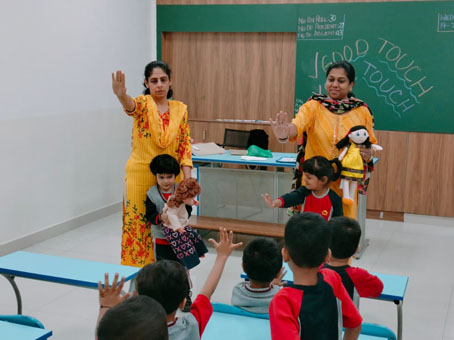 Parents and schools need to be vigilant and monitor their students in every way to make sure that they're not silently battling abuse. But most importantly, teaching them the difference between good touch and bad touch puts them in a better position of stopping such incidents from happening. Students learnt to identify and differentiate between the good touch and bad touch, whom to approach in case of need and ways to ask for help.
View Gallery
---
Red Splash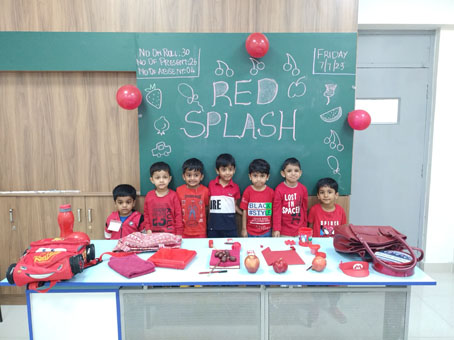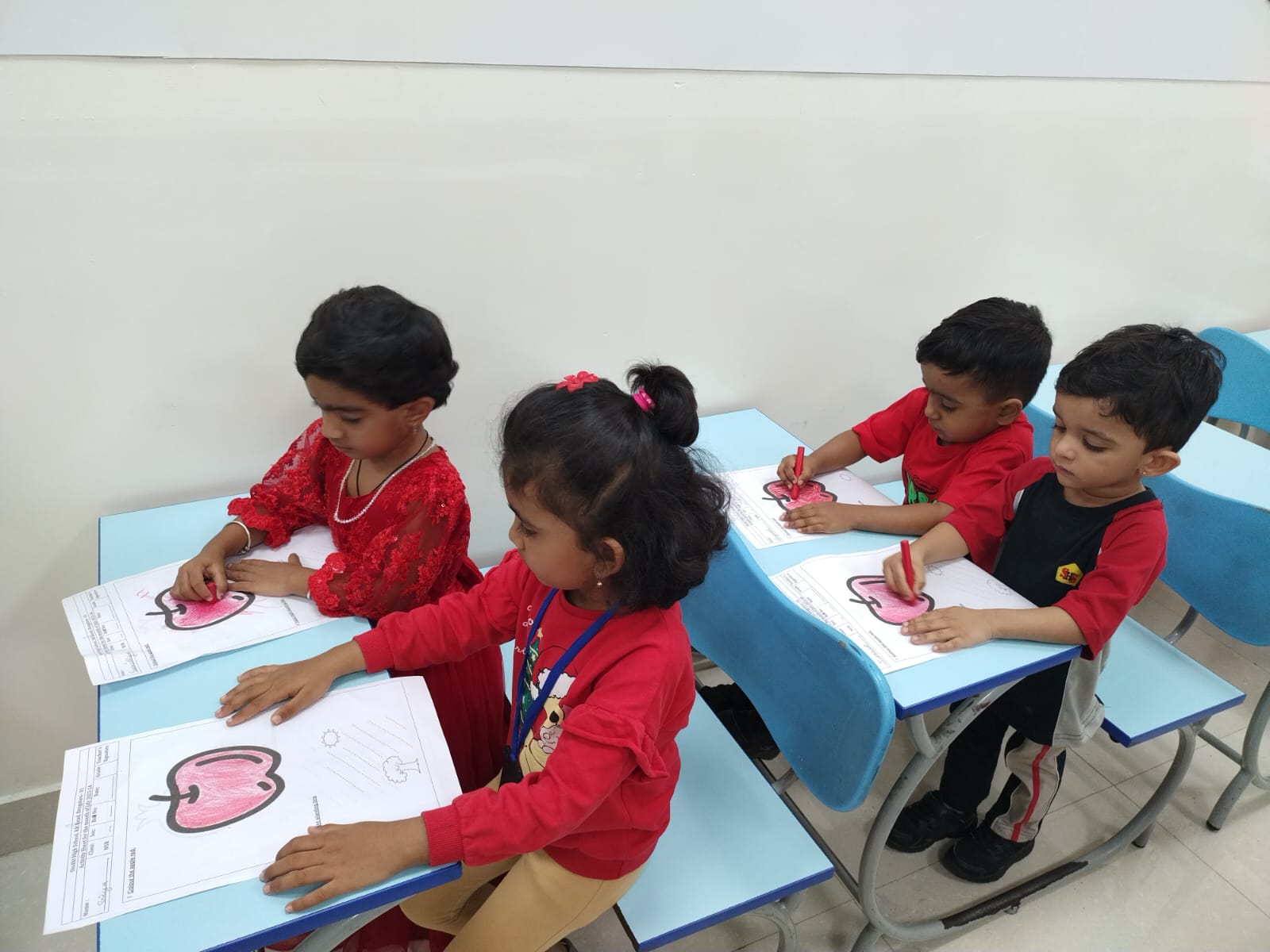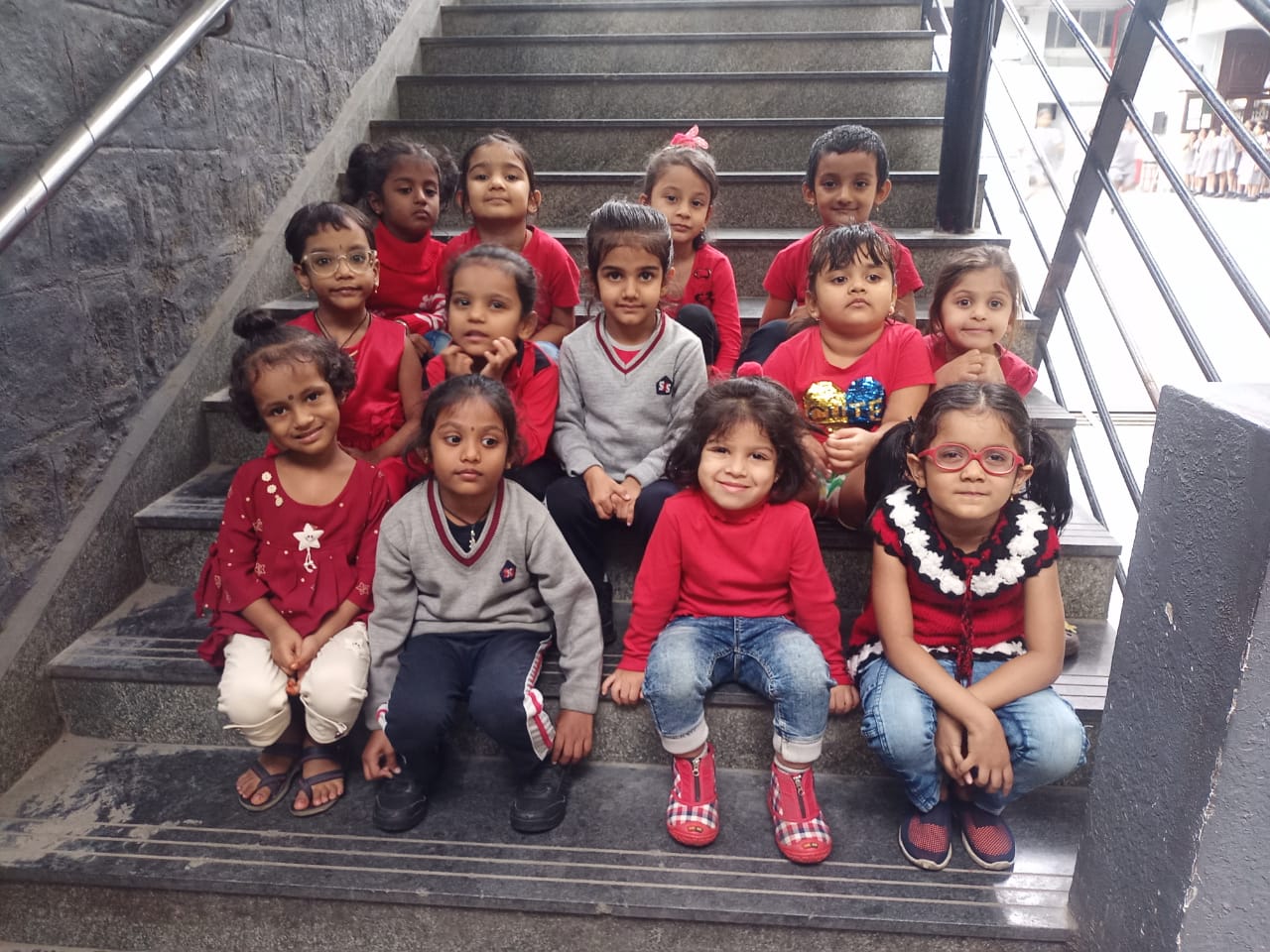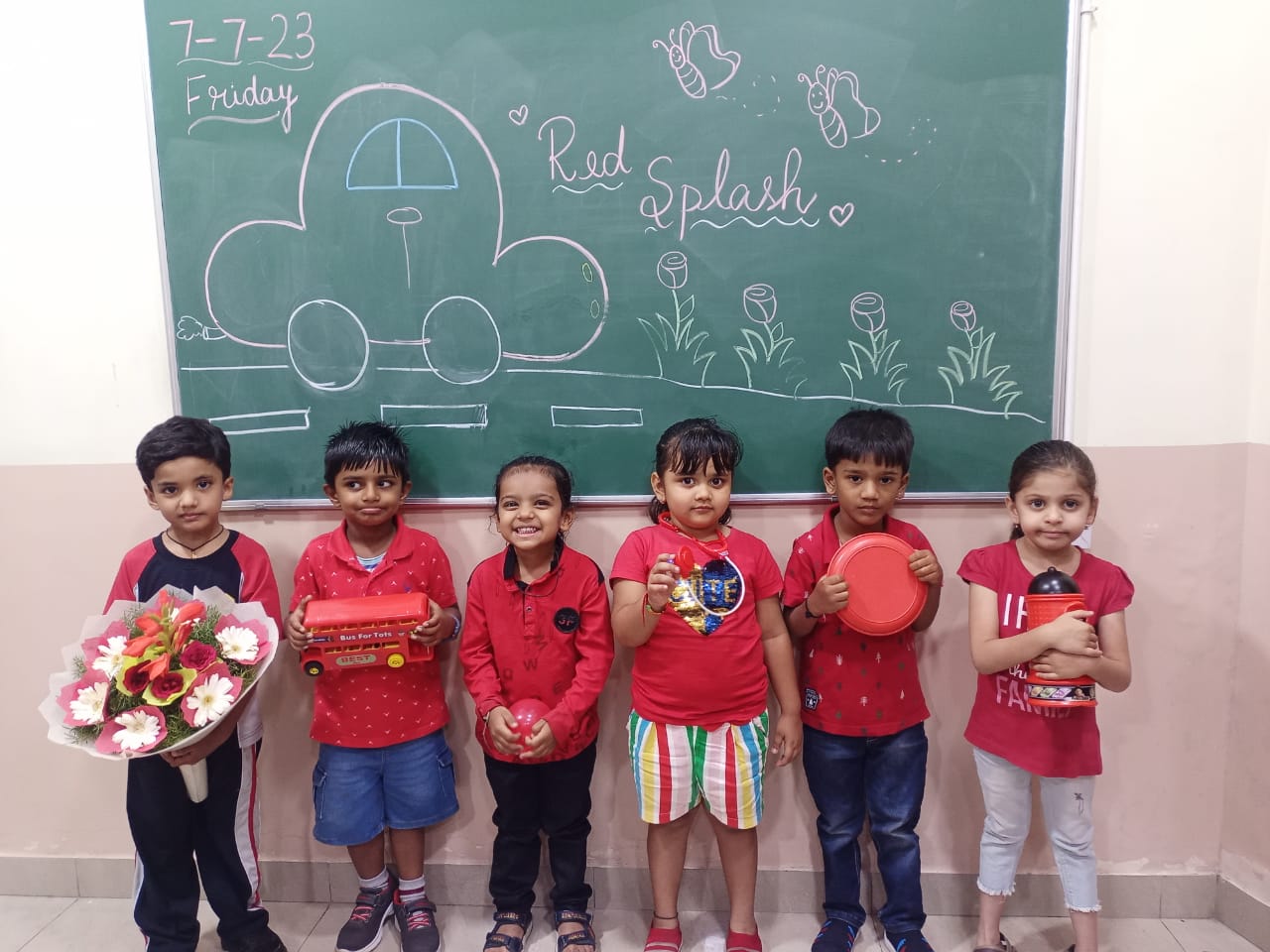 View Gallery
---
Papa and Me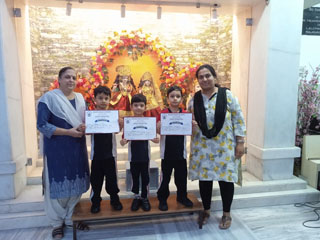 Fathers are the child's first heroes. They are the pillars in the development of a child's well-being. Father's day is a time to show love and appreciate the hard work of the fathers. Students of UKG made a card and spoke about their special bond between them and their father. LKG and Nursery participated in craft activities for their Dearest Dad. Let us celebrate the... Follower / Adviser / Teacher / Honorable / Ever loving / Role model
View Gallery
---
Prize Day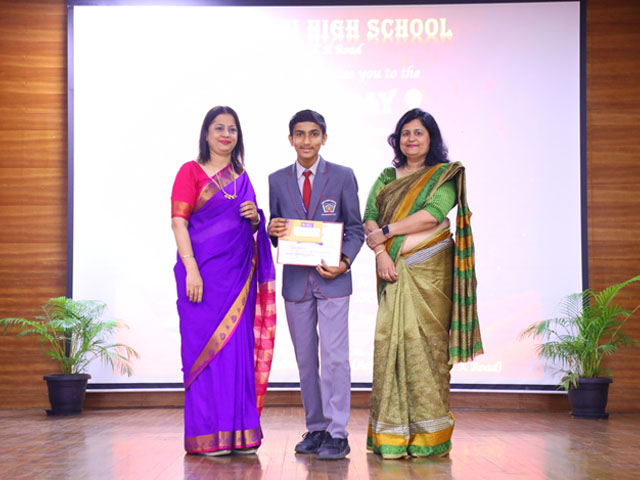 Celebrating Excellence and Achievement Prize Day is a momentous occasion that marks the culmination of hard work, dedication, and exceptional achievements. It is a special day celebrated in our school to recognize students who have demonstrated outstanding performance, talent, and commitment in their respective fields. The event serves as a platform to commend and reward excellence, inspiring others to strive for greatness. The event started with an invocation song invoking the blessings of the Almighty,followed by illuminating the lamp,as it is an auspicious occasion, Principal Smt. Devika Kiran, addressed the students congratulating them for their commendable performance. The awards were then presented to the deserving individual. Prize Day serves as a moment of reflection and gratitude. It is a time to appreciate the unwavering support of teachers, mentors, parents and friends who have guided and nurtured the talents of the awardees. It is an occasion to acknowledge the collective effort of the educational institution in fostering an environment that encourages excellence and growth. In conclusion, Prize Day is an auspicious event leaving an indelible mark on the lives of the recipients and the community as a whole. Teacher + Parent= A child's strongest Advocate. The PTM for pre primary wing and class 1 to 8 was held on Saturday, 1st July,2023. The teachers discussed students' performance and suggested ways in which the learning experience of the student can be enriched. The teachers briefed the parents about their ward's performance. Areas of strength and weakness of the child were identified and ways to boost the child's performance were suggested. Counseling sessions on Positive Parenting and Raising Independent Children were conducted by Ms Usha T R - school counselor for the benefit of the parents.
View Gallery
---
PTM - 1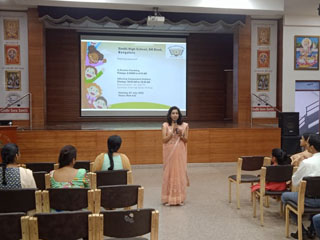 Teacher + Parent= A child's strongest Advocate.
The PTM for Pre-primary wing and class 1 to 8 was held on Saturday, 1st July,2023. The teachers discussed students' performance and suggested ways in which the learning experience of the student can be enriched. The teachers briefed the parents about their ward's performance. Areas of strength and weakness of the child were identified and ways to boost the child's performance were suggested. Counseling sessions on Positive Parenting and Raising Independent Children were conducted by Ms Usha T R - school counselor for the benefit of the parents.
View Gallery
---
Music transcends boundaries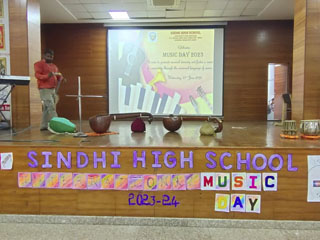 "Music gives a soul to the universe, wings to the mind, flight to the imagination and life to everything."
The World Music Day was celebrated at Sindhi High School, KK Road on 21st June, 23. It was a musical afternoon where students and teachers gave mellifluous performances, both Vocal and Instrumental. Audience was left mesmerized by the impactful performances.
View Gallery
---
Yoga for wellness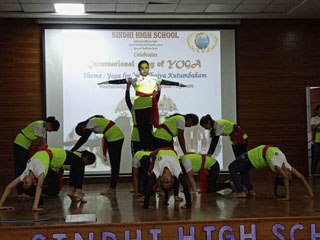 "I come from a land where the idea of the whole world being one family is rooted in our ethos vasudhaiva kutumbakam" Prime Minister Shri Narendra Modi
The International Yoga Day was celebrated with enthusiasm by the staff and students of Sindhi High School, KK Road on 21st June, 23.The staff members and students performed various asana and came up with innovative and appealing formations. The importance of Yoga was highlighted through an informative speech. The calming effect of yoga was felt by one and all.
View Gallery
---
Reading Month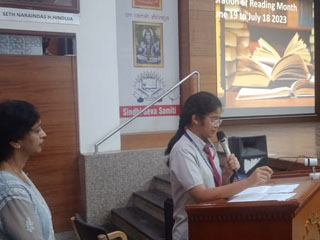 "Reading brings us unknown friends."
The celebration of Reading Month began on Monday, 19th June, 2023. B G Ila of class X A, administered the reading pledge to the students during the assembly. The celebration aims to help students improve their reading habits and develop a love for reading. Many reading activities for different classes are lined up during the month.
View Gallery
---
Innovative Ambassador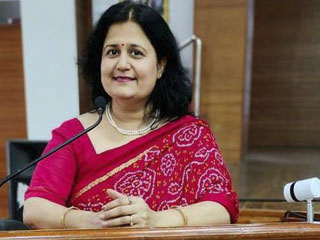 If your actions inspire others to dream more, learn more, do more and become more, you are a leader. An excellent orator, a singer, Vice principal Ms Alpana Kala, who is instrumental in shaping up many students lives, inspire her colleagues with positivity and vision has been awarded INNOVATIVE AMBASSADOR, Ministry of Education by the Government of India. Truly, a worthy award to our vice principal Ms Alpana Kala, who will infuse the culture with meaning, and resilience and will play a valuable role in our organizations success.
View Gallery
---
Brand Ambassador of Innovative Education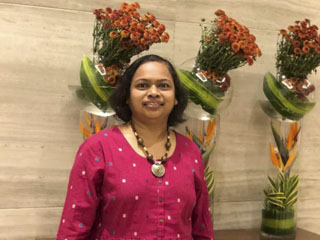 Brand Ambassador of innovative education. Better than a thousand days of diligent study is one day with a great teacher Vice principal of our school Ms Pratima Pai, is an inspiration to many students and a role model to her peers. While her wide range of knowledge and experience, is much appreciated, a feather in her cap is being he BRAND AMBASSADOR of innovative education, an honour conferred by Ministry of Education. This prestigious feat was achieved by her by successfully completing the training in 72 hrs. A proud moment to our SCHOOL.
View Gallery
---
Green Splash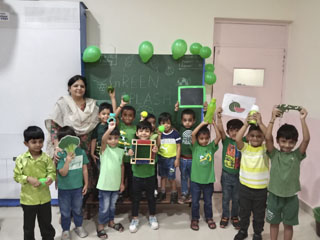 Today's kids are tomorrow's future, so they need to know about our surroundings and all the issues that we are facing. Students of Nursery and LKG participated in the green splash. Children were taught about how to keep the environment clean and ways to take care of nature. LKG students participated in Show and tell activity and the nursery children painted the school green with their presence.
View Gallery
---
Origami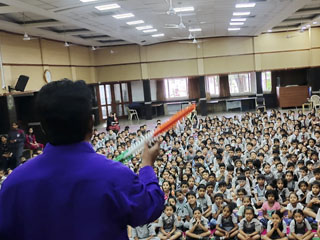 Unfolding Beauty and Creativity in the folds of a paper. "There are no rules to be followed during origami and that's what makes it more beautiful and loving." Origami activity was conducted for the students of classes I to IV on 13th June, 2023. Mr Mohanlal created unique and exclusive structures to showcase his finesse in paper craft. The children were amazed to see the transformation of a sheet of paper into a finished sculpture through folding and sculpting.
View Gallery
---
Alumni Meet
Nostalgia unlimited "Seasons change but friends remain the same." The alumni of batch 2015-16 finally got together on the bright Sunday morning of 11th June 2023 in the school premises. They exchanged their memories, ideas, views and experiences. It was an occasion to get together with old friends whom they had not met for years to relive their "BACHPAN" In their almamater, which opened the gates for them with open arms.
---
Road Race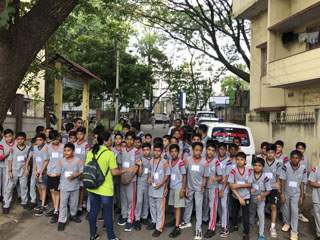 Road Race: A test of speed and determination 'It's not about the destination, it's about the journey." - Ralph Waldo Emerson The first inter house sporting event of the year, a road race which is the tradition of SHS, began with a bang. It was held for classes 4-10. A road race is a type of racing event that takes place on paved roads or streets. The inter-house event was made memorable by the enthusiasm displayed by the students who were brimming with confidence and parents who actively volunteered and cheered for the runners. Running the last kilometre and meeting the target is a test of determination, especially for the younger children. Therefore, all were winners since there were no quitters.
View Gallery
---
Investiture Ceremony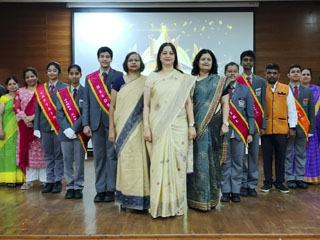 'At the helm-Today's Student Council, Tomorrow's Trailblazers' "Always do right. It will gratify some people and astonish the rest." – Mark Twain. The Investiture for the academic session 2023-24 was held on the Friday, 2nd June, 2023. The event was presided over by the Principal Ms. Devika Kiran. The Investiture ceremony signifies the reliance and confidence that the school consigns in the newly elected Parliamentarians. Donning the mantle of accountability, the School Head Boy and Head Girl took the pledge to discharge their duties to the best of their abilities. The elected Leaders' were conferred with badges by the Principal. The students' council took the pledge to hold the school motto of 'Tamasoma Jyotirgamaya' in high esteem. The Principal advised the Parliamentarians to be impartial and honest in discharging their duties and uphold values. The function concluded with the National Anthem.
View Gallery
---
Partnering to build a strong foundation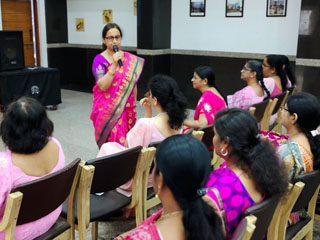 "Alone we can do so little; together we can do so much." - Helen Keller Every new academic year brings forth new challenges and new initiatives and the parents and school need to work in tandem to maximize their children's potential. Parent- Orientation programs for Pre Primary and Class 1 were held on Saturday, 3rd June 2023. This program helped parents to get an insight into the learning process and activities introduced in the school for their children. It gave parents a platform to voice their opinions and clear their doubts.
View Gallery
---
Beat plastic-Kneel to Mother Earth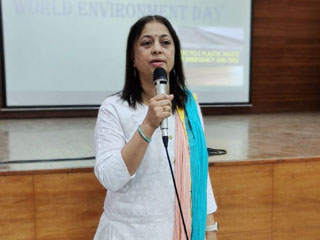 World Environment Day was observed at Sindhi High School, KK Road, with enthusiasm . The theme was Beat Plastic Pollution Speeches, PowerPoint presentation, skit and songs exhorting everyone to follow Eco friendly practices marked the celebrations. The thought-provoking program left the students wonder-struck.
View Gallery
---
An Orientation Programme was held for the parents and students of Class X on 27th May, 2023.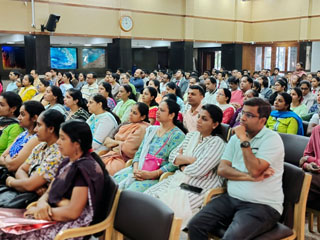 The Principal, Ms. Devika Kiran, welcomed the parents and assured them of the school's commitment in ensuring their child's holistic development. She threw light on the CBSE's scheme of Assessment for the year 2023-24. Ms Mridula Tripathi - Vice Principal, Mr Pramod - Math faculty - Sindhi High School, Hebbal gave an insight in to courses and facilities available to the students at our Hebbal campus. In the open forum that followed the queries of the parents were addressed by the Principals of both the schools.
View Gallery
---
Unleashing the power of innovative teaching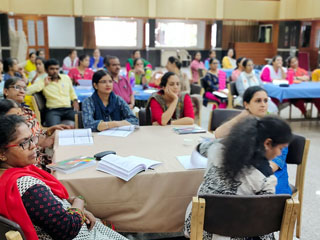 Teacher Training Workshops were conducted to provide overall continuous growth opportunities to the teachers. The aim of the workshops was to give the teachers a chance to learn new skills and adopt better teaching practices.
View Gallery
---
A Holy commencement for a Wondrous Academic Year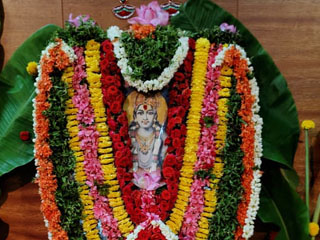 Satyanarayan Pooja was performed in school on Wednesday ,31st May 2023. The ritual was performed to seek blessings for academic success of students and prosperity, wealth, and happiness for all.
View Gallery
---
News - Archive